Boeken
Crossing The Bridge –
Hans 't Hart
Are you in a relationship but feeling lonelier all the time? Do you feel misunderstood, or not heard? Do you miss a real connection with your partner? Are you thinking about giving up on the relationship? Or do you want to experience the connection between the two of you again, but you're not sure how?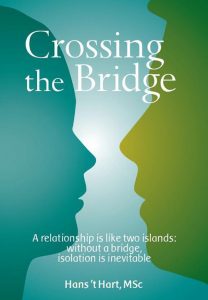 Buy this book on Amazon.
Crossing the Bridge offers a method you can use. It is a conscious method to really talk to each other – to tell each other what you really want, how you really are and how much you want to truly live together instead of just occupying the same house.
The method that Hans 't Hart introduces in Crossing the Bridge is more than a simple communication technique. With it, you'll discover something fundamental and something much deeper between you and your partner: a genuine heart-to-heart encounter.
Using the work of American therapist Hedy Schleifer as a basis, relationship therapist Hans 't Hart teaches you how to carry out the method step by step – in your own home, using nothing more than two chairs and the desire to invest in your relationship.
By integrating two successful methods (including EFT, developed by Canadian psychologist Sue Johnson), 't Hart offers an unique approach to relationship therapy in the Netherlands. A clear, illustrative film of a couple "crossing the bridge' supports the method described in the book.
Hans also provides training programmes for therapists who want to integrate this method into their own work.
Crossing the Bridge: for partners who are "stuck' or who want to enrich their good relationship, and for therapists who want to offer their clients a deeper level of relationship therapy.
Buy this book on Amazon.